701 Rouse Avenue, Youngsville, PA 16371, United States
701 Rouse Avenue
Youngsville
Pennsylvania
16371
US
The Mission of Rouse
Rouse exists to improve the quality of life for those who cannot fully care for themselves, regardless of age or economic status. We do this by continually expanding our knowledge, broadening our continuum of care and improving our services.
The Vision of Rouse
Rouse will be seen as the regional Center of Excellence in providing a continuum of care for all generations. Rouse strives to develop and maintain real and lasting relationships with those for whom we care by getting to know them on a personal level. Our person-centered care will be delivered to individuals following their needs and wishes. We will consistently strive to exceed the expectations of our customers by continually evaluating and responding to industry needs. We will do this by providing a supportive, energized working environment that values employee contributions and growth.
To ensure high quality care and the physical well-being of our residents, the Rouse Home focuses on treating the individual – not just the individual's symptoms. Our personalized services include:
A Rouse-employed physical, occupational and speech therapy staff
In-house dental, audiology, podiatry and vision services
Transportation to and from physician-ordered medical appointments
Transportation to and from personal off-grounds activities*
A daily calendar of social, educational, devotional and recreational activities
A Chaplain on-staff with Sunday church services
Laundry service
Spa services*
Mail pickup and delivery
Hospice service
*These services are available for an extra fee
The Rouse Home is a 176-bed facility with both private and semi-private rooms. We have adopted a unique "household" concept, making each of our six wings their own individual community. Separate dining rooms and lounges are established on each household, thus providing a more intimate social setting for our residents to enjoy. Additional amenities include:
A large recreation room, featuring an aviary
The Dogwood Room snack bar, open daily
Cable television service
Telephone hook-up**
On-site beauty salon and spa
Landscaped courtyard and patio areas
Comprehensive maintenance of room and grounds
Complete sprinkler system and smoke alarm
**Telephone service available for a nominal monthly fee
There are many facets of the Rouse Estate and they include: The Rouse Home / The Suites at Rouse / The Memory Care Community / Bridges Adult Day Service / Rouse Care at Home / Rouse Children's Center
Check out our website for more information about all of our available services!
You must login to post comments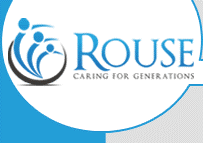 You must login to post comments