1751 Market St, Warren, PA 16365, USA
1751 Market Street
Warren
Pennsylvania
16365
US
Service is the Difference. We Get It!  You need auto parts and we've got them.  At Go Car Auto Parts, customer service is about delivering excellence in everything we do. This dedication is enhanced by best in class product and experienced parts professionals. We serve our communities with a high level of integrity and passion in what we do. We deliver the right products to the right place at the right time. We specialize in servicing parts to fleets and farm businesses and general automotive shops. We sell paint and hydraulic needs for all.  We sell replacement parts, engine parts, brakes, batteries, accessories, tools and garage.  We are your neighbors, your friends, and members of your community.  We believe that "Service is the Difference" and we carry that through everything that we do.
Store Hours: Mon- Fri.: 7:30 am – 5:00 pm; Sat.: 8 am – 12:00 Noon & Sunday: CLOSED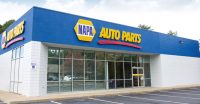 1201 Penna. Ave. E., Warren, PA 16365
NAPA Auto Parts-Barnhart Davis Co. stocks auto parts, tools and equipment and many other items fo...