20oct7:00 pmBLACK VIOLIN: CLASSICAL BOOM TOURReg Lenna Center Event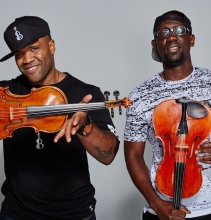 Event Details

Black Violin is composed of classically trained violist and violinist Wil B. and Kev Marcus who combine their classical training and hip-hop influences to create a distinctive multi-genre sound that is often described as "classical boom." The band released their major label debut Stereotypes debuting at #1 on the Billboard Classical Crossover chart and #4 on the Billboard R&B chart. Black Violin has shared stages with top names including Kanye West, Aerosmith and Tom Petty, and has creatively collaborated with the likes of Wu-Tang Clan, Wyclef Jean and Alicia Keys.

This is a Reg Lenna Center for the Arts Event.  Tickets range between $10.00 – $45.00 each & are available online at http://reglenna.com/upcoming or can be purchased over the phone at 716.484.7070 or in person at The Reg Lenna Center for The Arts box office, Tuesday – Friday: 10 a.m. until 5 p.m. and one hour prior to each performance. Hours subject to change.