9045 U.S. 6, Tiona, PA, USA
9045 U.S. 6
Tiona
Pennsylvania
16352
US
Review From Facebook:
Although it doesn't appear to be much from the outside, the rooms inside are fairly updated. They are a little small, but very well cleaned and maintained. There is TV, Wi-Fi, A/C, & he supplied us with some tourist info. If staying here, you must meet J.R. the owner/host. He is extremely kind, outgoing, hospitable, and knowledgeable of the area. Shortly after we checked ourselves in, he arrived and introduced himself and reviewed the tourism pamphlets he'd left for us, and offered us insight to some of the things we had loosely planned to do while there. He then invited us over to the 6Shooters lounge next door where there was a pool table and bar, jukebox, etc. My Fiancé and I followed his advice on the sightseeing and weren't the least bit disappointed, however staying at this motel and chatting with him while playing pool and listening to the jukebox actually wound up being one of the highlights of our trip! Very good value, highly recommend, and we would definitely stay here again next time we are in the area.
You must login to post comments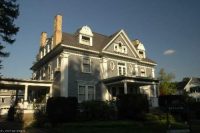 504-507 Market Street, Warren, PA 16365, United States
"Serving the Warren Community with History and Hospitality since 1995" A Great House...